It is with the greatest sadness that I have to announce, on behalf of Eric's wife Angie Kincaid, that Eric passed away peacefully at home with her by his side, as he wanted, on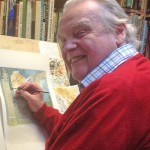 Friday 18th August 2023.
Eric became famous for his wonderful children's book illustrations, some of the titles were Alice in Wonderland, The Jungle Book, and Peter Pan, to name just three, but there were many more famous titles illustrated in the 40+ years that he painted them.
When he retired the world of Miniatures became his life, and I was honoured that he pushed me into showing my miniatures with him at the exhibitions, with a hand shake, after I gave him some miniature brushes and said he should try painting miniatures. We became brothers in ARMS with the Royal Miniatures Society in London together and then both achieved our RMS together after 5 years of exhibiting. We kept encouraging each other to keep showing both at the Royal Miniatures Society, The Hilliard Society and the Society of Limners for the next 11 years. We became full members of all the British Societies together and had such fun coming up with new ideas to paint.
Eric has painted a good number of miniatures since 2012 when we first showed at the RMS, some of the which were, Alice in Wonderland, Wind in the Willows, The Jungle book and Oliver Twist, plus a series of dragons, a series of Fairies and a series of Nursery Rhyme images, most of which you've can see on these pages.
I'm sure you will join me in sending your condolences to his loving wife Angie, daughter Fi and all his family.
You will be so sadly missed Eric, by so many people that you touched with your wonderful art over the years.
Rest well in the stars dear friend, you deserve it. 
This website will stay up as a tribute to Eric